AFFORDABLE

PRICES

FRIENDLY

& TIDY

WORK

GUARANTEED

LATEST

TECHNOLOGY

RESTORE YOUR WOODEN FLOORS IN HACKNEY
Your natural wooden floors - are they a source of pride or shame?
If they veer toward the latter, because time is taking its toll in a tired and grey look - or more serious marks and damage - do yourself and your floors a favour.
A transformation is quick and straightforward - with specialist sanding and resealing services.
Call on E8 Floor Refreshing Hackney - for floor repair and restoration.
Whatever your kind of floor - from hardwood boards to parquet and mosaic blocks - we'll provide the best advice and finished job from our twenty years in the trade.
- we'll repair and replace those damaged boards or blocks.
- sand away old paint and sealant to smooth wood.
- stain for a fresh colour to match your decor (such as a modern shade of white or grey).
- seal and protect with lacquer, hard wax or natural oil.
Don't worry about mess and inconvenience. We can adjust to your schedule - by working at weekends or even overnight. We'll also keep down dust with our efficient collection system - so sanding will be close to dustfree.
And all completed to the highest standards with top quality materials - to last longer, look better and provide superb long term value.
So for your floors in the home, school, office, shop, bar or restaurant..

Call us 

today for your free assessment.

  



For a new floor to display with pride to guests, staff, visitors, family and customers.
Floor Sealing Hackney - for a beautiful new floor E5.
A flavour of Hackney past
Among the intense urban character of the borough, Sutton House is a welcome survivor. This Tudor home of 1535 was built by Ralph Sadleir, one of Henry V111's courtiers - and later occupied by Huguenot weavers. Its Little Chamber has some impressive wooden panelling on its walls.
Hackney became popular as a residence for rich merchants in the 17th and 18th century - and for private schools for young ladies in the early 19th. They attended the yellow brick church of St John at Hackney whose tower dates from 1797. The interior was gutted by a fire in 1955 (a blow torch was left on in the roof by a workman). It was quickly rebuilt and still contains many monuments and a wooden pulpit which somehow escaped the flames.
LATEST NEWS, RECOMMENDED ARTICLES & TIPS
Choosing the right floor finish applicator
Choosing the right applicator for your chosen oil or water based polyurethane can make all the difference between creating a professional finish and having to go through the process of floor sanding all over again. First, you'll need to check the manufacturer's instructions to see whether they recommend a certain type of applicator. If not, the following suggestions are the best ways to apply different finishes after floor sanding.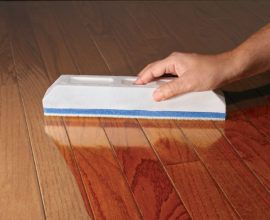 The squeegee for water-based finishes

The squeegee is the best method bar none for getting into tight spaces like under doors, and helping you to avoid overlap marks and even uneven levels of finishing sheen. Squeegees are available in different sizes, but you'll need to be super sharp with your turns when using a larger squeegee to avoid leaving telltale marks.

The lambswool applicator for oil-based polyurethane

This type of applicator is perfect for oil-based poly, but be careful as fibres from new pads can get stuck in the finish and ruin the effect. Before the first use, take the time to comb out each pad or use tape to remove any stray fibres. A good tip is to store your lambswool applicators in mineral spirits, which also helps the poly to spread across the floor like butter.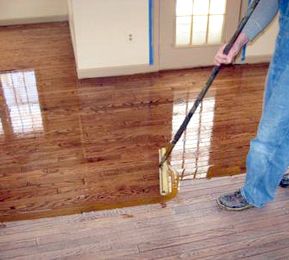 A brush for oil-based poly

If you prefer to use a brush with your poly, make sure you invest in a good quality one that won't shed bristles and ruin your finish. A brush is a great applicator to use because you have to be mindful of every stroke to get the perfect finish, and it's ideal for cutting in around the edges of the room.

Synthetic pads for water-based finishes

When you use a water-based finish, you must always use a synthetic applicator - synthetic lambswool is also available. These applicators don't hold onto the quick-drying finish so you can get the job done quickly and easily.

Rollers: The all-rounders

You can use a roller with both oil and water based polys, so long as your roller is fitted with the appropriate sleeve. Rollers make a great job of parquet floors as they can cope with the multi-directional grain, and are a good general purpose applicator to use when you want to get the job done quickly as they hold plenty of finish. Whichever applicator you decide to use, take your time as you work and you'll create a top quality finish a sanding and finishing specialist would be proud of.
Before & After